Most people will expect to be able to find you or your business on the internet. Whether you are showing off your interests, selling your products online, or want to provide some information about your business, having a website is essential.
It's a good idea to think about what you hope to achieve with your website before you start creating one. Researching your competitors' websites can help you get a clear idea of what may work best for you.
Now let's start at the top!
STEP 1: Come Up With A Concept, or Business Idea
Have you ever had a plan, passion, or new product that you wanted to show off to the world? Not yet? Here are some strategies that can get those creative juices flowing for your next website:
Start documenting your passion or hobby.
Solve an existing problem for people. Maybe automate an everyday task.
Find out what's the hot trend by watching T.V, reading magazines, or just a simple Google search.
Create another version of an existing product. You can set yourself apart from the competition by creating a product that's faster, bigger, smaller, or quicker.
Create an add-on to an existing product.
Contact some of your existing customers and ask them what kind of new products or features they would like to see.
STEP 2: Decide What Platform the Website is Going to Built On.
Now that you have an idea of what your website will be on, you need to choose what website platform to build on. There are many different website building platforms and website builders around the market, which include WordPress, Wix, Joomla, and Drupal.
You could code your website from scratch, but we wouldn't recommend it on mainly two reasons:
It takes way too much time away from you running your business.
The result will be mediocre at its best without years of coding experience unless you hire a designer and/or developer.
But which one should you choose?
There are many CMS (content management systems) to choose from. Selecting the best platform for your needs for your business is a top priority. It would be a burden to start building your site on a CMS platform to find out that it's wrong for you. There's a load of free website builders that you could use, but they aren't great for the long term. You're restricted to using their functionality, hosting, and their sub-domain.
For the rest of the article, we are going to focus on using WordPress. Unlike website builders, it's completely free. Some platforms require you to know a bit of coding like HTML & CSS. If you are a beginner, then this would be your best option to choose WordPress.org.
WordPress is the most comfortable platform we've ever worked with. Still, it's flexible enough to suit everyone – small business websites, online shops, and large organizations.
Comparing WordPress to other methods:
Learning HTML from scratch can take some time to get the basics, let alone CSS and PHP. Having the basics of HTML is useful, but if you want to develop a website within a day or two, learning HTML isn't the most efficient option.
Website builders are expensive all-in-one solutions while being very limited in functionality. They are suitable for one-page websites, but not more.
WordPress vs. Joomla/Drupal… WordPress is just more user-friendly, hands-down.
STEP 3: Get a Domain and Hosting Plan
Before you can get started, you're going to give your website a name and a place to put it. The two most essential components to get your site ready is a domain name and web hosting service.
A Unique Domain Name
Domain names are used to point the address that people will use in their favorite web browser, like Google Chrome, to visit your site. It's what your website will be called from then on (Unless you change it, but there are some rules that we will cover later). It plays a big part in defining your brand, so it's crucial to choose a domain that represents you or your business well and is easy to remember.
Reliable Web Hosting
Web hosting is where your site files are. Hosting companies have large data centers with servers. When you purchase a hosting plan, the website files will be on one of those servers. It's where you will be putting all your data, copy, images, and anything else for your web creation. Some hosting companies provide dedicated WordPress Hosting.
Choose Your Domain and Web Hosting
Typically, a domain name will cost $15 per year, and hosting will cost you approximately $3 – $12 per month. It's worth it, really it is! If you're serious about building your website, then you need a hosting and domain name.
Go to tgsdomains,com and find your perfect domain name to get started.
STEP 4: Design, Develop & Optimize Your WordPress Website
When you have successfully installed WordPress to your domain, you'll see a simple yet basic site. You don't want to be and look like everyone else, do you?
This is where we get a theme, a design template that tells WordPress how your website should look and install the extra goodies to make it function the way you want.
Find a Theme You Like
There are 1500+ of beautiful, professionally designed themes you can choose from and customize for your own site. Here's where you have three options; Download a Free or Premium theme from WordPress' marketplace, Hire a web developer to code theme templates for you, or use a theme builder. We found that using a builder like Elegant Themes' Divi is the easiest path. Using a builder gives the flexibility of designing a fully customizable theme without knowing a lick of code. However, you can apply custom code to go the extra mile.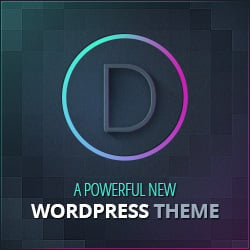 Install Plugins to Extend the Functionality of WordPress
"Plugins" are extensions that expand WordPress' capabilities. They add features and functions to your site that don't come standard.
They're shortcuts to getting your site to do what you want to, built by developers that keep them up-to-date for the current version of WordPress.
You can use plugins to do everything from adding submission forms to optimizing your website and creating an online store. There are 25,000+ plugins available, and to start installing them, go to "Plugins -> Add New" and start searching. Once you find a plugin you like, click "Install."
To help you get started, we've put together a list of useful plugins we use:
Gravity Forms – Build and publish WordPress forms in just minutes. No drudgery, just quick and easy form-building.
Yoast SEO – Enter the keywords or keyphrases you'd like your post or page to rank for in the search results. Yoast SEO makes your site SEO-friendly.
UpdraftPlus WordPress Backup Plugin – Nothing is more frustrating (or terrifying) for the average business owner than the possibility of losing all of their hard work and content due to a faulty update or random coding fluke. This plugin can backup and restore your website if such an event were to occur.
WPS Hide Login – You've worked hard to create your content, now it's time to protect it. This plugin enables you to change the login page to a custom URL, hiding it from hackers trying to breakdown the front door of your website.
WPS Limit Login – Taking security to the next level, limit the number of times someone can try to log in unsuccessfully. Block brute force attacks and keep your website safe.
STEP 5: Now You're Ready to Launch it
But wait, there's more! You've laid the groundwork, but there's always room for improvement. Google likes to see consistent information about your business, including contact information. If you need help making sure your things are in order, we can help.